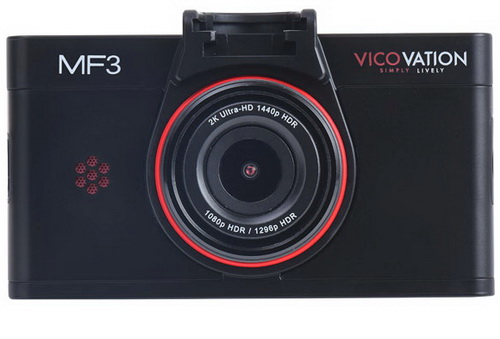 According to several studies over the past 10 years if you're driving in one of the world's largest and busiest cities there's a significantly higher chance that at some point you'll come across an accident or be part of one, if you haven't already (always compared to driving in less populated areas). Because of that there are several insurance companies all over the world that offer a small percentage off your monthly fees if you happen to have a dash camera installed in your car. Now obviously for the most part a dash camera may just take up space in your car since it can only be used to record your trips but occasionally it can actually come in handy even if it hasn't recorded an accident (yours or someone else's). For example roughly 3 months ago my dash camera recorded two guys riding on two bikes stealing the purse of the woman driving the car in front of me (one went on her side to distract her and the other grabbed her purse from the open passenger window). Likewise a good friend of mine came across two guys on a bike that kicked and broke the left side mirror of a car in the middle of the road and then just took off in traffic. In both cases our dash cameras recorded the license plates of those people which in turn we made available to the authorities. Vicovation recently released their brand new dash cameras one of which is the Vico MF3 Extreme Cam Recorder which we've been testing for roughly one month now.

VicoVation is the combination of Vico (Vision, Integration, Creativity, Observation) and Innovation. VicoVation was founded in 2010 by a group of CCTV surveillance system professionals who values the most on recording quality and the product quality. VicoVation's team is dedicated to image and function adjustments so they can bring the best Dashcam products to the customers. The newly launched models come with the latest technology including Ultra High Dynamic Range (U-HDR), Lane Departure Warning System (LDWS), Forward Collision Warning System (FCWS), Current Speed & GPS Location Overlay, GPS Tracking, and many other more advanced driving safety assistance functions.

The brand new Vico MF3 Extreme Cam Recorder by VicoVation is based on the latest A12A SoC by Ambarella and a 4MP CMOS image sensor (along with 6G glass lens for superior clarity) a combination which enables single-channel recording of Quad-HD (4MP, 1440p) resolution at 30fps and Full HD (1080p) resolution at up to 60 fps with HDR and a diagonal viewing angle of 150 degrees. The Ambarella A12 SoC uses a combination of advanced image processing, High Dynamic Range (HDR), 3D noise filtering, smart auto-exposure, and full-resolution oversampling to produce superior image quality compared to similar products. Also thanks to a high-speed 792-MHz ARM Cortex-A9 CPU with Neon DSP extensions the A12A offers advanced analytics algorithms including Lane Departure, Low Light Warning, Forward Car Movement Detection and Forward Collision Warning Systems. The VicoVation MF3 features an aluminum enclosure, is compatible with Class 10 micro SD cards (up to 128GB in capacity) and has a 3 inch TFT LCD screen at the rear which not only allows the end user to see what is being recorded but it also simplifies access to all available settings. So let's move forward with our review and see what VicoVation has been up to lately.
SPECIFICATIONS AND FEATURES

PACKAGING AND CONTENTS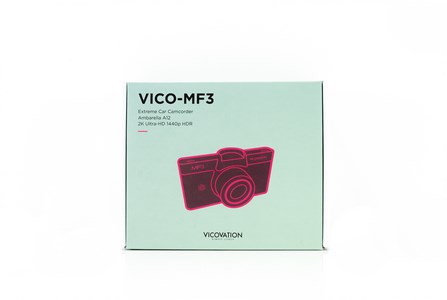 The Vico MF3 arrived inside a green box that has a product drawing at the front and of course the main product features.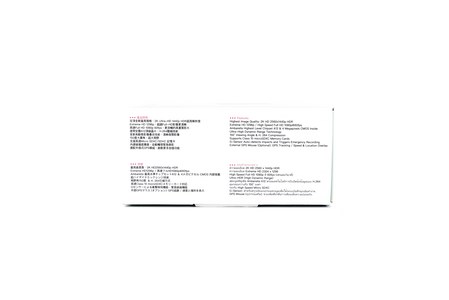 The features list is placed at the base of the box in 4 languages.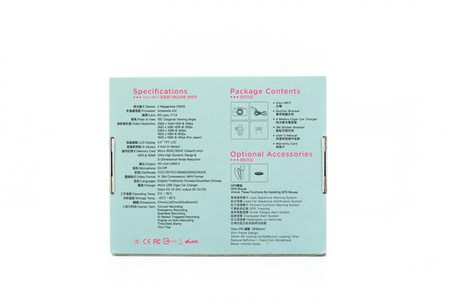 VicoVation has listed the product specifications, bundle contents and optional accessories at the rear of the box.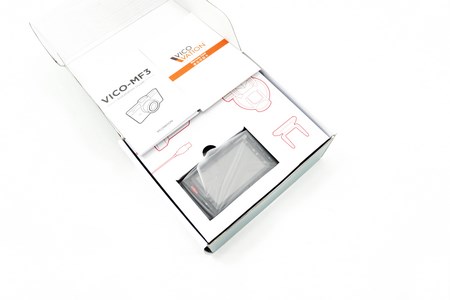 Packing is almost excellent since both the camera and the bundle are placed inside and beneath a formed piece of cardboard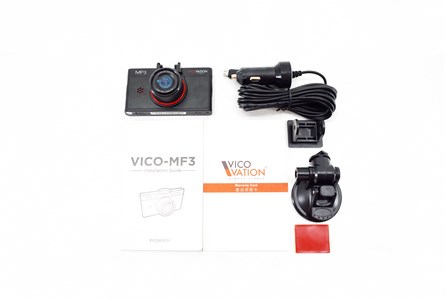 Along with the MF3 dash camera you'll also get a suction mounting bracket, cigar car charger with 4 meters cable, 3M double side adhesive tape, sticker mounting bracket, warranty card and the user manual.


THE VICO MF3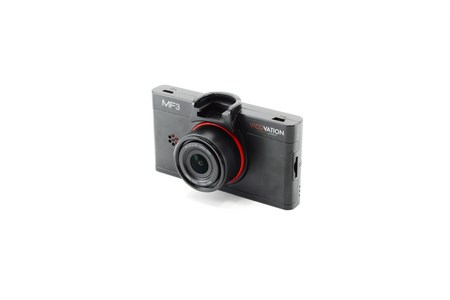 VicoVation obviously decided to design the MF3 after a normal compact digital camera (the Leica M8 to be precise).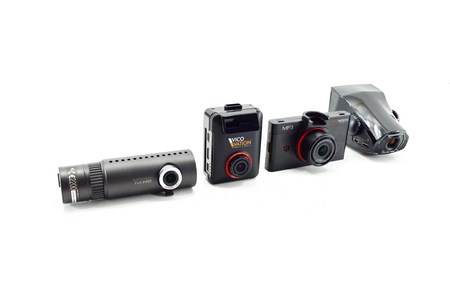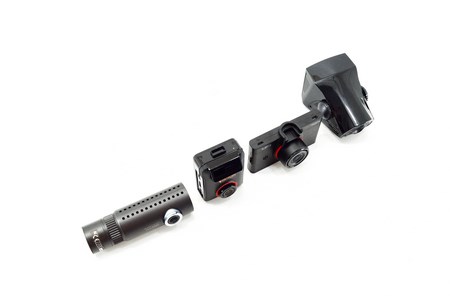 The MF3 may not be the smallest car dash camera in the market today (the aluminum body measures 97mm in length, 57mm in height and 35mm in thickness) but as you can see from the above comparison it's not what we'd call large either (unlike the Papago model).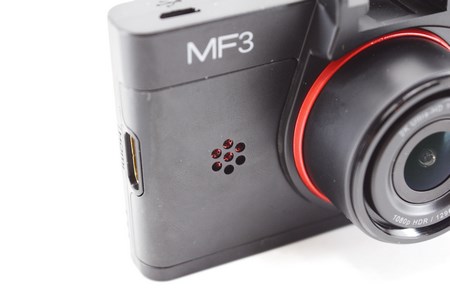 A small driver (speaker) is placed right next to the lens.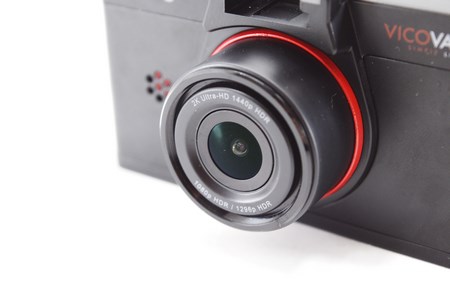 The F/1.8 lens feature 6G glass for superior image clarity and have a diagonal viewing angle of 150 degrees.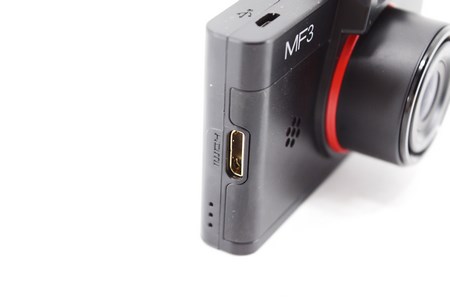 A full sized HDMI output is located on the right side of the enclosure.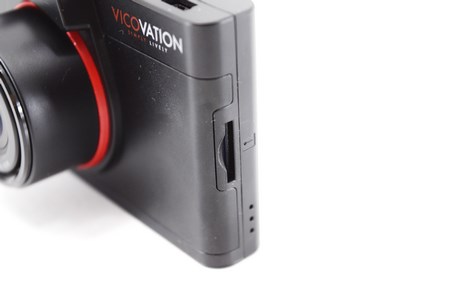 The micro SD card port is placed on the left side (beware that SanDisk cards are not supported 100%).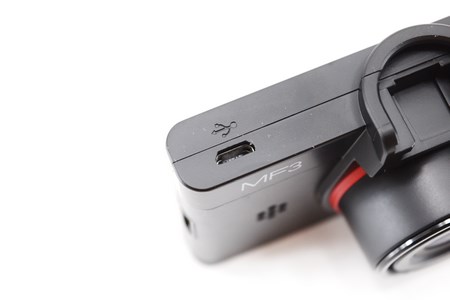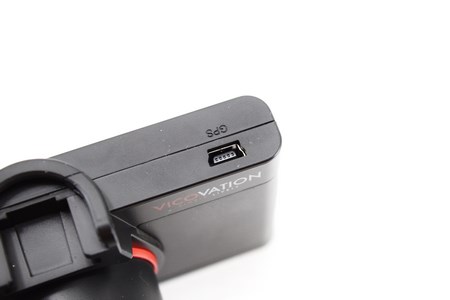 The micro USB power port is placed right over the front speaker while on the opposite side we have the mini USB port used by the optional GPS mouse.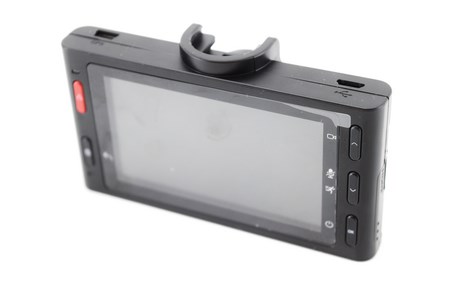 Moving at the rear we see the 3 inch TFT LCD screen with its 5 navigation buttons.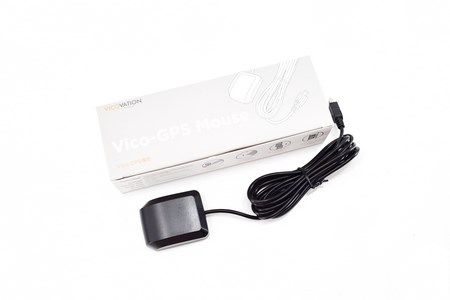 If you want to have access to some extra features like speed, FCWS (forward collision warning system) and LDWS (lane departure warning system) you will need to purchase the optional GPS mouse as seen above.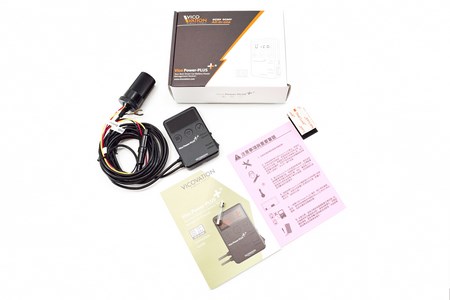 Another optional accessory is the Vico Power-PLUS battery discharge prevention device which provides power to the camera (it's also compatible with all camera models) without draining your cars battery out (this is not a battery). Although this is not extremely hard to install we do recommend using the services of a qualified car technician/electrician.
AVAILABLE SETTINGS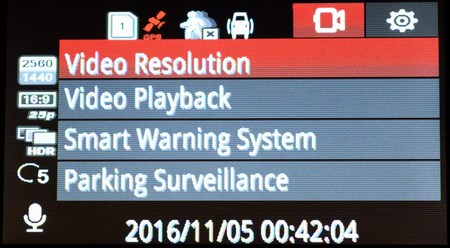 From the 3 inch TFT LCD screen and the 5 navigation buttons you can access all available settings.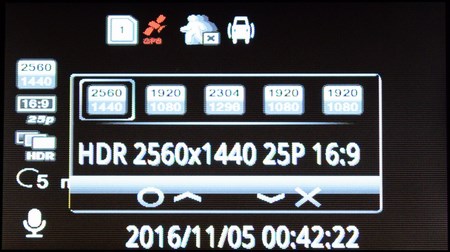 Perhaps the most important setting is the recording resolution which you can set between 1440p, 1296p and 1080p (30/60fps).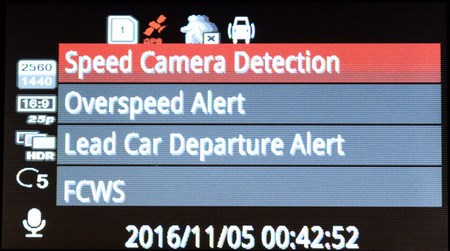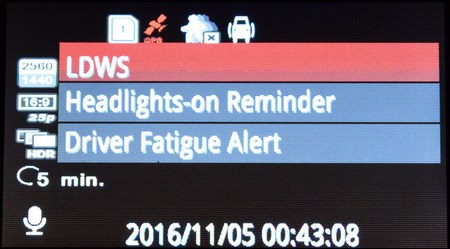 You can also adjust the settings for the Smart Warning System which includes the speed camera detection, overspeed alert, lead car departure alert, FCWS (forward collision warning system), LDWS (lane departure warning system), headlight on reminder (low light detection) and driver fatigue alert features.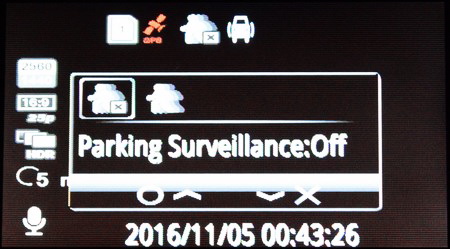 Unlike its predecessor the Vico MF3 also comes equipped with a parking surveillance feature.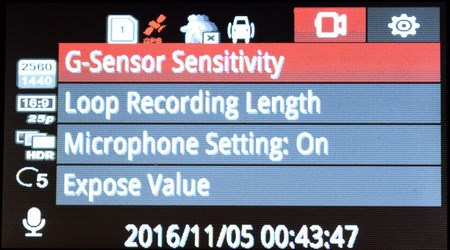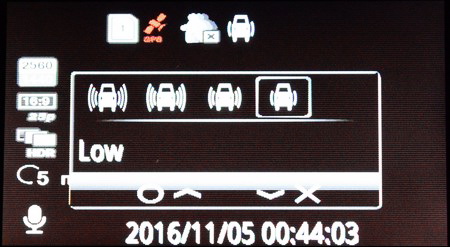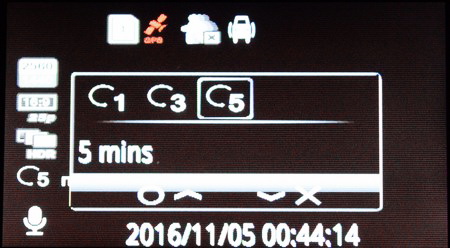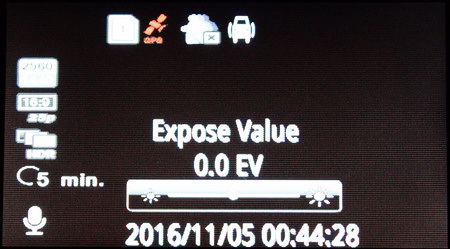 You also have the ability to adjust the sensitivity of the G-Sensor (low/medium/high/very high), loop recording length (1/3/5 minutes), exposure value and set the microphone on or off.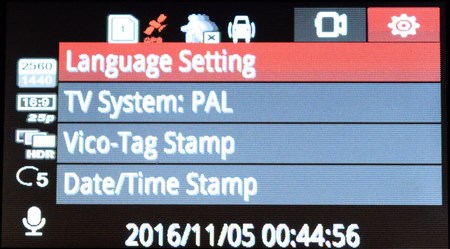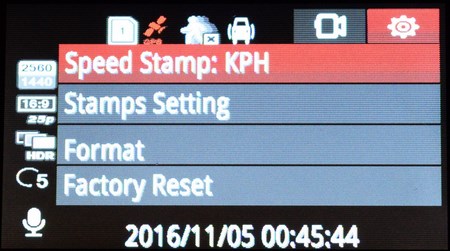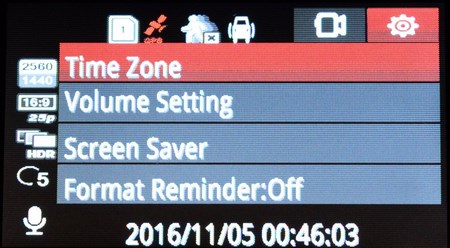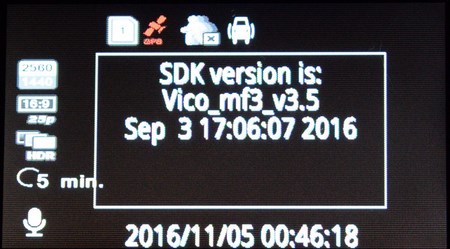 Secondary settings include the ability to change the displayed language, choose the correct TV system of your country, set your own video stamp, enable/disable the date/time video stamp, choose between KPH and MPH for the speed display (only applicable if you have the GPS mouse), format the inserted micro SD card, reset the camera to its factory settings, set the proper time zone, adjust the volume levels, set a screen saver for the LCD and check the current firmware version.
AUDIO & VIDEO QUALITY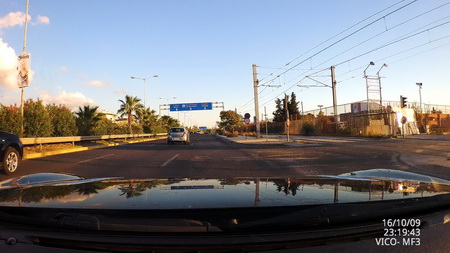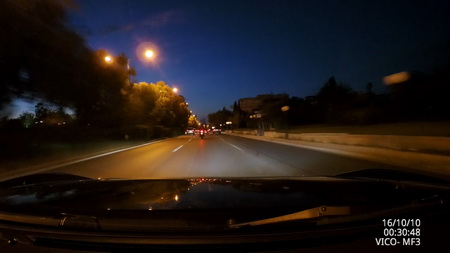 As always we didn't use YouTube to place our recordings since we want all of you to see exactly what you will when using the camera (unfortunately that's why the clips are 10-15 seconds long) so to download the above clips you just need to left click with your mouse or right click and use the save as command. By default the bitrate of the Vico-MF3 when set to record at 1440p sits between 22000kbps and 25000kbps so it's a far cry from what we see with most dash cameras (luckily so far no overheating issues have been observed probably due to the aluminum housing of the MF3).
CONCLUSION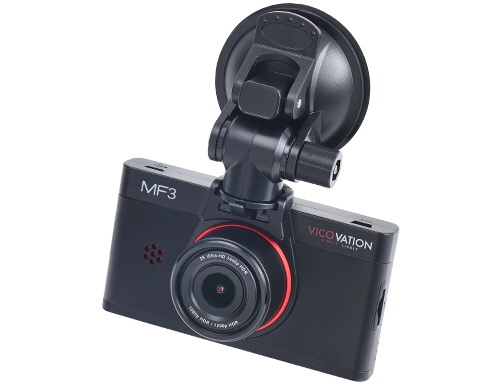 VicoVation is not new neither when it comes to Dash Cameras nor when it comes to us since we first got a glimpse of their expertise with their Marcus models. However although the Vico-MF3 is a great little dash camera with very good image quality (some grain is visible due to sharpening so I do hope that VicoVation will eventually place a sharpen option in the settings menu), a plethora of features and a quality enclosure it's not exactly perfect. For one it doesn't have a built-in GPS sensor and that's something we also didn't like with the Marcus models. Granted some consumers may not care about that option but with the majority of similar dash cameras offering it right of the box without the need for extra cables and devices this could push potential buyers away. Also although the rear LCD is always a good feature I hope one day manufacturers will give consumers the choice of removing it when they feel they don't need it (something like the original GoPro action cameras?). Skipping it entirely is also not a bad idea since on one hand that would probably reduce costs (and besides you can always see what the camera records via your smartphone) while on the other people would probably have a permanent spot on their windshield (just like the BlackVue models). VicoVation says that they are working on one such model (again with a very high recording resolution) so I'm quite curious about what their vision will be like. There's also a 30mm CPL filter available for the MF3 which should help suppress glare from the sun but since we didn't' get one we can't really comment on its performance. Last but not least the Vico Power-PLUS optional battery discharge prevention device works well but just like with the Power Magic Pro by Pittasoft/BlackVue you should only consider getting it if you want the camera to work while your car is parked.

VicoVation dash cameras land right in the middle of the market when it comes to price so the Vico-MF3 model currently retails for USD235.95 inside the USA (Amazon.com) and for 168Euros inside the EU (Amazon.co.uk). Of course this price doesn't include the GPS mouse module which will also set you back an extra USD33/33Euros should you choose to also get it. Overall the Vico-MF3 is not only great looking but it also features high quality aluminum housing and offers very good image quality and although we do feel VicoVation has still room to improve it's well worth our Golden Award.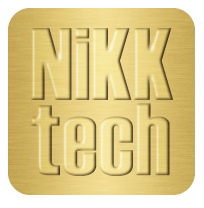 PROS

- Build Quality (Aluminum Housing)
- Overall Size / Design
- Highest Dash Camera Recording Resolution Available Currently (1440p/1296p @ 30fps and 1080p @ 60fps With HDR)
- Image Quality (Sharpness/Color Reproduction)
- Built-In G-Sensor
- Driver Assistance Features (Speed Warning/LDWS/FCWS/Radar Warning)
- 3" TFT Screen
- 30mm CPL Mount

CONS

- No Built-In GPS & WiFi (For Some)
- Digital Noise (@1440p/1296p)

Review by Nikktech.com (Greece)